Directorate of Rapeseed-Mustard Research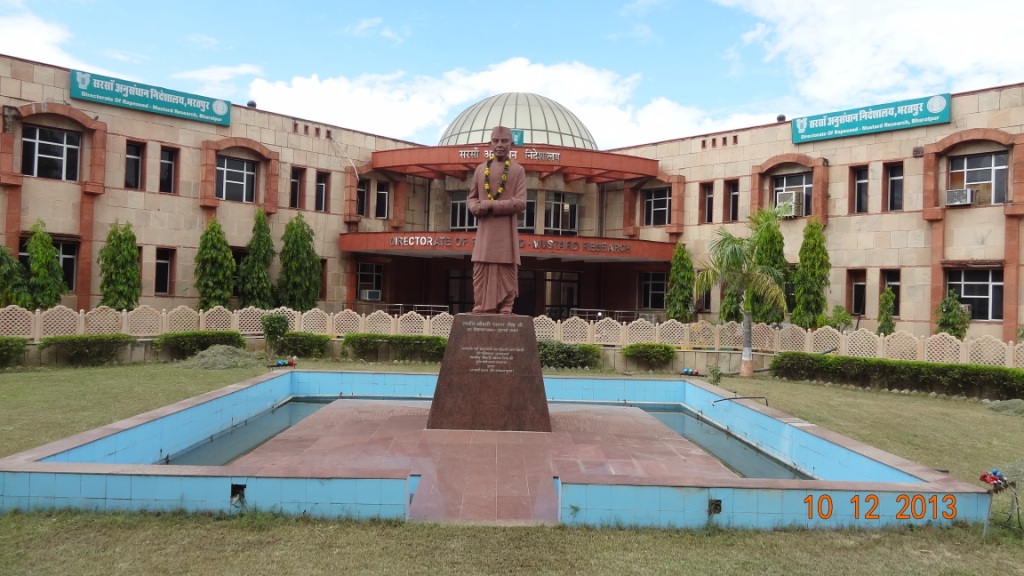 The Indian Council of Agricultural Research (ICAR) established the National Research Centre on Rapeseed-Mustard (NRCRM) on October 20, 1993 and redesignated it as the Directorate of Rapeseed-Mustard Research (DRMR) in February 2009 to carry out basic, strategic and applied research on rapeseed-mustard. Besides, generating basic knowledge and material, the Directorate is also engaged in developing ecologically sound and economically viable agro production and protection technologies. The Directorate has the responsibility of planning, coordination and execution of research programmes through wide network of 11 main, 12 sub- and 22 verification centres across the country to augment the production and productivity of rapeseed-mustard. A multi disciplinary and multi-location research programme on rapeseed mustard under the banner of All India Coordinated Research Project on Oilseeds headed by a full time Project Coordinator (Oilseeds) was started by the ICAR at New Delhi in April 1967. In the V five year plan, research programmes were further strengthened by setting up separate crop specific Project Coordinating Units. Accordingly, the unit of the Project Coordinator (Rapeseed-Mustard) was established on January 28, 1981 at Haryana Agricultural University, Hisar. Subsequently on the recommendation of the Task Force constituted in 1990 to select a suitable site, the ICAR established NRCRM at the site of an Adaptive Trial Centre, State Department of Agriculture, Rajasthan located at Sewar, Bharatpur in 1993. In February 2009, the ICAR re-designated NRCRM as the Directorate of Rapeseed Mustard Research (DRMR). The DRMR functions as a fulcrum to support the production system research for rapeseed (Brown sarson, yellow sarson, toria, taramira, gobhi sarson) and mustard (black mustard, Ethiopian mustard and Indian mustard) group of crops through 11 research and 11 service and support units (see Organogram).
Location
The Directorate is located on Agra-Jaipur national highway and is 7 km far from Bharatpur railway station and 3 km from bus station. Internationally known for Keoladeo National Bird Sanctuary, the Bharatpur is on Delhi-Bombay main railway track just 35 km ahead of Mathura. The Bharatpur is well connected with Jaipur, Delhi and Agra by road. The campus of the Centre is spread over an area of 44.21 hectares of which about 80 % is experimental and the rest is covered by residential and administrative-cum-laboratory buildings. It is situated at 77.300 E longitude and 27.150 N latitude and is about 178.37 meter above mean sea level. The climate is sub-tropical and semi-arid. The mean maximum daily temperature ranges from 35 to 470C and the mean minimum temperature from 12 to 290C during the hot weather. July to September is the rainy season during which about 700 mm of rainfall is received. The mean maximum temperature ranges from 18 to 240C and mean minimum temperature from 4 to 12.50C during winter (November-March).
Mandates
Basic, strategic and adaptive research on rapeseed mustard to improve productivity and quality
Provide equitable access to information, knowledge and genetic material to develop improved varieties and technologies
Coordination of applied research to develop location specific varieties and technologies
Technology dissemination and capacity building.